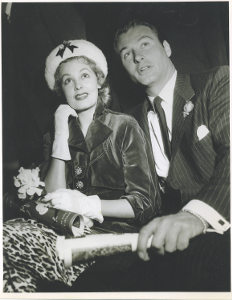 Hollywood actress Arlene Dahl was once Lex Barker's second wife. Aged 96, she has now died in New York City.
Her trademark was her titian-red hair and in the early nineteen-fifties she was considered one of the most attractive Hollywood actresses. She starred in the 1952 Western movie "Ambush" with Robert Taylor as well as in the swashbuckler movies "Caribbean" (1952, with John Payne), "Jamaica Run" (1953, with Ray Milland) and "Bengal Brigade" (1954, with Rock Hudson). She also played in the Jules Verne movie adaptation of "Journey to the Center of the Earth" (1959, with James Mason).
Arlene Dahl was one of those old-school actresses of the motion picture city, her image immaculate, her look fashionable and elegant. Her on-screen appearances stand for perfect Hollywood entertainment — but also for typecast roles. One of the few parts not complying with this predefined image was in Alan Dwan's "Slightly Scarlet" from 1956, where she played a malicious ex-convict and sister of the equally red-haired Rhonda Fleming.
Arlene was not perturbed by her Hollywood typecast but set out to tackle other fields of work. Simultaneously to pursuing her acting-career, she worked as a columnist for different women's magazines, and furthermore she founded a lingerie and cosmetics company. In 1951, when she was still married to Lex Barker, she had already started writing her beauty column "Let's be beautiful" for the Chicago Tribune. This column was kept going for more than 20 (twenty!) years.
Arlene's business enterprises kept her in the public eye, even after she had left Hollywood and settled down in Manhattan. At that point in time, her life wasn't revolving only around acting anymore. Nevertheless, up to the 1990s, she could still be seen in some productions like "The Love Boat" and "Fantasy Island". In 1972, she had even starred in the leading part of the Broadway musical "Applause" which was based on the 1950 Bette-Davies-movie "All about Eve".
Up to an advanced old age, she remained amazingly present in New York City. Altogether, Arlene was married six times. After her marriages to her fellow actors Lex Barker and Fernando Lamas, Marc Rosen was her last husband.
Lex Barker's son Christopher who had been like family to Arlene, was deeply saddened when he heard about Arlene having passed away. Christopher said that he would always remember her as the fascinating lady she had been, highly active to a progressed old age. He said that she had always been there for him whenever he had needed help and had now peacefully passed away. Christopher Barker says that Arlene was forever grateful to be remembered by so many of her fans in Germany.
In honor of her life, TCM (Turner Classic Movies) dedicated a whole commemoration day to Arlene Dahl. Click on this link to watch the trailer: https://www.youtube.com/watch?v=MbVuV6lSZSE.
Here you can read an interview with Arlene Dahl from the year 2007.