Lex Barker's birthplace, Rye/USA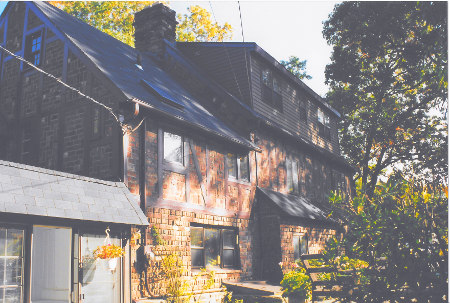 Lex Barker's birthplace, Rye/USA
"They say there was snow that day, that the flowers in the garden were killed by frost." That's what many years later, Lex is supposed to have said about the day of his birth. He was named after his father Alexander Crichlow Barker. His birthplace is the sleepy little town of Rye, NYS. Right in the middle of a park, you can find a sturdy brick building, the house where Lex was born.
There are only about 30 miles between the two places of Rye and New York City, but Barker was a cosmopolitan and he left his mark worldwide. In Hollywood, Alexander became Lex who rose to fame through his roles as Tarzan, and later in Germany as Old Shatterhand. At the early age of 54, Lex Barker died of a heart attack in the streets of New York. One hundred years after the day he was born he may be gone but he is not forgotten.
Lex Barker as Old Shatterhand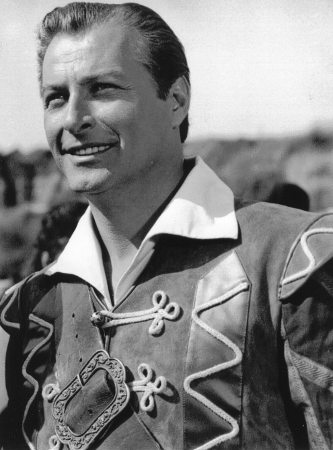 Lex Barker in an Italian swashbuckler movie
In Germany, the blonde man-mountain got famous in the role of the noble Karl-May-hero Old Shatterhand and there he became the matinée idol of a whole generation of movie-goers. As a western-experienced actor he knew how to ride a horse and how to let his fists fly, always helping justice to triumph. You would wish to have a man like Old Shatterhand by your side, be it as your mate or as a lady's man. ¿Qué hombre, what a man!, is a quote from one of his films. It's what a young lady quite rightfully exclaimes in awe of his appearance.
Lex Barker belongs to the generation of classic Hollywood movie stars. When, after Tarzan's jungle, the Hollywood studio system offered him almost exclusively Western roles, the 1.93m man left the movie capital and set out for Italy. In the war in 1945, he had once landed there as the youngest Major of the US-Army. Now he could show his strength on the Italian screen. In Fellini's "La Dolce Vita — The Sweet Life" he, the ex-Tarzan, managed to land a serious part which unfortunately remained an exception. Nevertheless, in that part he was able to write film history when in one scene, he gave Anita Ekberg a resounding slap in the face. The poor woman must still have felt the blow of it years later.
Soon after, the former enemy's country, Germany was calling. When fighting the Germans during the invasion in Italy, Barker had been badly injured. Just over 15 years later, he stopped in Berlin to man-hunt a criminal mastermind in Dr. Mabuse. In the Balkans, he played a character in another Cowboys-and-Indians-movie with a multicultural film crew. There had hardly ever been such a multitude of nationalities in a German movie before. In no time at all, Lex Barker became one of the most popular actors in Germany. In his movies he recovers cultural treasures in Ceylon, solves a series of murder cases in Southafrica, saves air hostesses from the hands of gangsters in Lebanon, stops Klaus Kinski and a revolution in Rio de Janeiro and last but not least, he becomes Mr. Dynamite, a strong man who can cope in all settings and fields of life. The German idea and embodiment of a perfect man.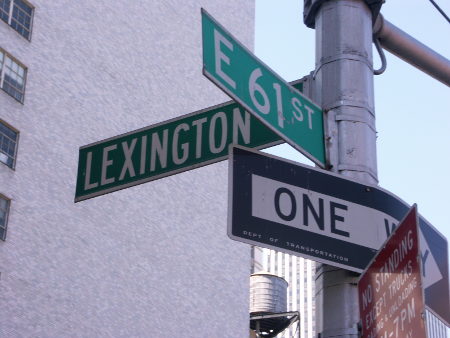 Where all roads came to an end - Lexington Avenue in New York
Barker's cinematic intermezzo in Germany would last over six years when finally the cinema crisis and the hope for a comeback in his motherland encouraged him to go back to America. But there, too, the business had totally changed. When, after an extensive run-up phase, Lex Barker finally appeared on the TV screens again, he had not long left until all roads ended for him in the streets of New York.
Today, Lex Barker is a fixture in movie history. To many he might have been a one-dimensional fighting-for-a-good-course cinematic hero but he won millions of hearts and in this light, the roles he played can't have been all wrong. He will always be fondly remembered. On the few occasions when extremely good-looking Lex Barker had a chance of showing his better acting skills, he delivered fine mastery. In 1971, for example, he co-starred Robert Wagner and Janet Leigh playing a former cowboy star in a wheelchair and giving the peak performance of his career. But fate wouldn't allow him to show the world more of this facet of his talents.