Interviews with Travelling Companions
Karen Kondazian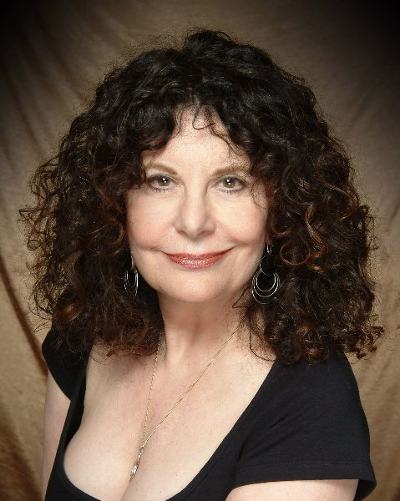 Karen Kondazian, 2009
Karen was both friend and companion to Lex Barker during his last days. They met at a Hollywood party in the winter of 1972 when Karen attended the event together with Lex' good friend Bill Orr. It was love at first sight. During the months leading up to Barker's death, Karen Kondazian frequently accompanied him. She also travelled to Canada with him at the end of April 1973 before both went to New York City. On the fateful day of 11 May 1973, Karen Kondazian was at Lex Barker's side.
Karen Kondazian, born in Boston, Massachusetts, is probably best known for her skillful depictions of Tennessee Williams' female characters. However, she has also acted in movies and television shows, produced stage plays, taught acting students and created a name for herself as an author (her book The Actor's Encyclopedia of Casting Directors, which contains interviews with Hollywood's best casting directors, became a best-seller).
During the time with Lex Barker, the young actress was working in American television series. Her Western role of Katie Elder Holliday in the Appointment With Destiny episode 'Showdown at O.K. Corral' (1972), her depiction of Mrs Mortimer in The Hound Of The Baskervilles (1972), with Stewart Granger as Sherlock Holmes, or the Gypsy girl Franzia in the classical series The Waltons (1973) are especially noteworthy.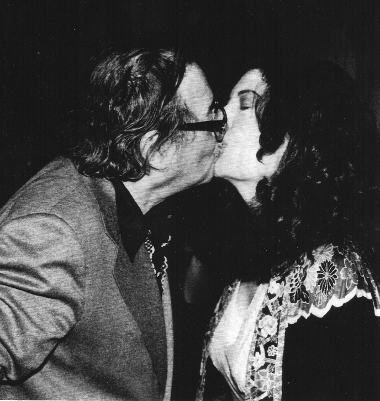 Karen with Tennessee Williams, 1979
After Lex' death, as well as a severe accident later on, her big breakthrough came with the production of and her lead role Serafina in Tennessee Williams' The Rose Tattoo (1978/79), produced with her own money, which she earned as the dialogue trainer of Hervé Villechaize for the series Fantasy Island (1978-84). Karen's career as an expressive (theatre-)actress had begun. The Los Angeles Drama Critics Circle honoured her with the award of 'Best Actress' for The Rose Tattoo. That was also the beginning of her life-long friendship with Tennessee Williams.
Other Williams' pieces in which she played are (thus far): Sweet Bird Of Youth (1979/80), as well as The Night Of The Iguana (1987), Orpheus Descending (1996/7), The Milk Train Doesn't Stop Here Anymore (2007); The Roman Spring Of Mrs Stone is planned for 2010/11.
Outstanding appearances in television series like Shannon, Hill Street Blues, Cagney & Lacey, Frasier, NYPD Blue, or movies such as Yes, Giorgio (1982), James Dean: An Invented Life, (2001) and The Blue Hour (2007) followed, in which Karen Kondazian always breathed life into the characters she played.
Master Class (Los Angeles, 2007) advanced to a great theatre success — with Karen Kondazian masterfully portraying opera star Maria Callas during her student time at Juilliard School — and earned outstanding reviews (Ed Harris and Faye Dunaway, by the way, were among the enthusicastic guests of the play).
Last but not least, Karen Kondazian's support for diverse Lex Barker activities, especially her active contributions towards the nomination for a star on the Walk Of Fame must be mentioned, as well as her assistance within the framework of the planned Lex Barker film documentary (see article Hollywood: Memories of Lex Barker).
The following interview was conducted in 2009 and published here for the first time.
Karen, Lex Barker would have been ninety years old in 2009. When you look back, what memories do you have of Lex?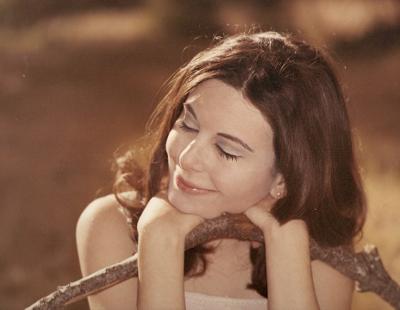 Portrait of Karen at the time of Lex Barker
I remember Lex, first of all, as the most romantic man I have ever known. He was such a gentlemen, old-fashioned in the best sense, great fun to be with. We used to lie in bed at night, sing show tunes and laugh ourselves to sleep. He was much deeper than most people knew. Lex was so intelligent. He was a Renaissance man... he could do anything. He spoke several languages, gardened, cooked, rode horses, was a superb tennis player, loved to play cards and golf. I do think though, that part of him was a sad, wounded little boy... terribly afraid of getting older and losing his looks. But oh! How all the women loved him! Lex was like the daddy every girl dreams of having. He taught me so many things.
You were together with Lex in his last days. How do you remember the three days between his 54th birthday and the 11 May 1973, the day he died?
We flew to New York from Montreal a few days before his birthday. We stayed at a lovely Park Avenue apartment with some friends of his. I remember that, on his birthday, he took me to see Marlon Brando in Last Tango in Paris (1972), a film he loved very much. It was so strange; he said to me: 'You have to watch how Brando dies at the end. It's like you can see everything in his eyes...' And three days later, he was gone. With his birthday present I gave him a card, on which I had written a poem for him. When he read it, he got tears in his eyes and said, "How do you know me so well?"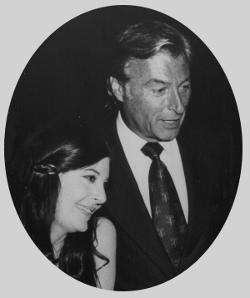 Karen with Lex Barker, 1973
The morning after his birthday party he told me that he had had a bad dream — that someone had been trying to hurt me. He was trying to beat them off, but they kept grabbing him from behind, grabbing his chest. And that he couldn't breathe. Now I realize that he was probably having a small heart attack in his sleep. His last night we had dinner at one of the oldest and most famous restaurants in New York, "21". Then we went dancing. I remember him saying to me, laughing... 'When I get old, will you wheel me around in a wheelchair?' The next morning I woke up to him all dressed and saying that he was going to go see his agents and for me to pack and meet him at some friend's apartment for lunch. We were going to take the train to Connecticut afterwards to visit friends. He was always very punctual and when he didn't show up for lunch we all got very worried. We called the hospitals and then walked to nearby police stations. Finally, at one of the stations, they said... 'Oh yes, Alexander Crichlow Barker... he was taken to the morgue. He had died instantly of a massive heart attack on Lexington Avenue'. Once we identified him, he was taken to the Campbell Funeral Home on Madison Avenue.
A hypothetical question: In what type of roles would we have seen Lex in the 1970s?
Because Lex was so handsome, I think he got typecast and trapped in those hunky kind of roles like Tarzan. I think he had so much more inside of him though. He was beginning to show his real talent, for example, in La Dolce Vita. Had he lived, I am sure he could have played the kind of roles that Clint Eastwood has played... and also Sean Connery.
Let's focus on you now: How did you find your way into an acting career?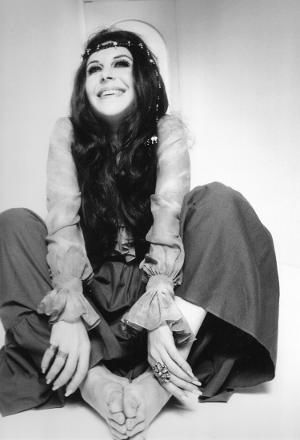 Portrait of Karen at the time of Lex Barker
At eight years old I wanted to be a spy when I grew up. But fortuitously, I was chosen to be one of the children on Art Linkletter's famous show Kids Say The Darndest Things. And because I found out each time I was on the show, that I could miss school, get a free lunch of my favorites (grilled cheese sandwiches and orange sherbet), and I could make my mommy laugh by being on the show; I decided that acting was the life for me.
One of your acting teachers was Jeff Corey, a wonderful character actor from Hollywood. He also starred with Lex in a German Karl May movie Treasure of the Aztecs (1965). What in particular did you learn from Jeff?
Jeff Corey and Lee Strasberg were my two most influential acting teachers. Jeff taught me the art of improvisation in acting... and to allow my own eccentricities to shine in my work. He also helped me get my first acting agent in Hollywood which of course, helped start my career.
Theater is one of your great loves, I know. And you are very well-known for performing the plays of Tennessee Williams. Williams was fascinated with your acting (and you). Did he ever tell you the reasons he liked you so much in his plays?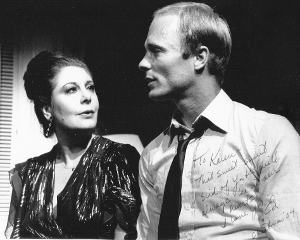 Karen with Ed Harris in Sweet Bird of Youth, 1980
He said that I reminded him of one of his best friends, the great Italian actress Anna Magnani. He saw me in his Rose Tattoo and gave me the rights to produce all of his plays while he was alive. So I produced and starred in Sweet Bird of Youth with Ed Harris, and that began my desire to play all of Williams' great women. We became friends. He told me once that to play his women, one has to have the same struggle that he himself has... the fight between the body and the soul. He said he saw that struggle in me.
The first glance at your list of movie and television performances reveals The Hound Of The Baskervilles with Stewart Granger as your first television film. What memories do you have of Granger and the production?
It was my first television role. Stewart Granger, like Lex, was very charming. He was careful to watch over me and told me that I looked like his ex-wife, Jean Simmons.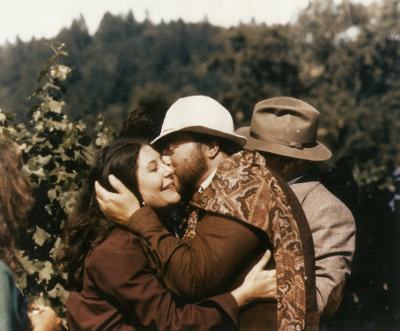 Karen with Luciano Pavarotti, 1981
You also appeared in Yes Giorgio with Luciano Pavarotti. How did you like working with Pavarotti?
I adored Luciano. He was so kind and generous to everyone — especially the women. We filmed in the gorgeous Napa Valley of California. He and I shared the same hair and make-up trailer, so every morning when we were getting our make-up done, he would ask me what song I wanted to hear. He would use that song to warm up his voice that day. Can you imagine? I had a private concert by that incredible voice every morning! What a way to start the day, yes?
Indeed! Tremendous! One of your great theatre successes was Master Class, where you played Maria Callas. As an actress, how did you prepare for such a part, playing such a gigantic character from the world of opera?
I read every book on Callas, the greatest actress in all of opera. I listened to every CD of hers... that sublime voice; and I watched every DVD... documentaries and performances. I was also very fortunate to be put in touch with one of the original Master Class students that she had taught at Juilliard music school. This woman told me things about Callas that no book knew... how she was going blind from macular degeneration, she was having terrible problems with her teeth. And how Callas suffered terribly with the loss of Onassis. I found out from this student a lot of secrets...  what really helped my performance was understanding that a ruined, broken child lived inside this diva.
You also love Westerns, though. In a television production you played Kate Elder Holliday. Your new book will be a novel about a woman in the old West who lived her life as a man. Can you tell us something about that story?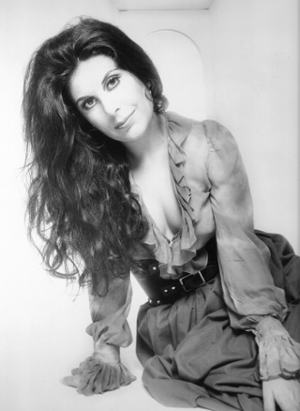 Portrait of Karen at the time of Lex Barker
It's inspired by the true story of a woman who lived most of her life disguised as a man. She was a famous stagecoach driver for Wells Fargo, Charlotte Darkey Parkhurst. She killed a famous bandit who tried to rob her stagecoach one too many times. She also had the courage to live with a black man during the Civil War period. I'm hoping to get it made as a movie. My ultimate dream would be to have Clint Eastwood direct it and Cate Blanchett to star in it. I was just thinking that perhaps if Lex was still living that who knows... he might have become a director as well.
You have played many Italian characters. What do you think about Lex in La Dolce Vita?
Yes, like every actor, I was typecast. I look so Italian that the majority of roles that I play are Italian women. As for Lex in La Dolce Vita, I remember seeing him as a young girl, for the first time in that movie. He was savage and wonderful... and I remember thinking that I wanted to see more of him... he was so interesting to me. Years later when I knew him, he told me that Fellini had filmed about 10 hours more with a lot of his work included that got cut from the film, as the movie was already so long. I do wonder where all those outtakes are... I hope they haven't been destroyed and that they are sitting on a shelf somewhere waiting to be discovered.
What are some of your upcoming acting projects?
There is a wonderful film project starring Ed Harris to be shot in Boston sometime in the near future, as soon as the final financing comes together. I will be playing what else... an Italian mafia mama. As for theatre; my Master Class director, Simon Levy, has been given permission by the Tennessee Williams estate to adapt one of William's greatest novellas. We hope to be performing the premiere production of it off-Broadway later next year.
We wish you much success for those projects. Thank you for the conversation.
Reiner Boller (2009)
Assistance: Marlies Bugmann (2009)